Posts for tag: gum disease
By Tina Theroux, DMD
March 16, 2020
Periodontal (gum) disease, a bacterial infection caused by plaque, is one of the most prevalent and destructive dental conditions. Left untreated it can eventually lead to tooth and bone loss.
Although people are often unaware they have gum disease, there are a few warning signs to look for. Here are five gum disease signs that should prompt a dental visit.
Gum Swelling and Redness. Like all infections, gum disease triggers an immune system response that releases antibodies into the gums to attack the bacteria. The ensuing battle results in inflammation (swelling) and a darker redness to the gum tissues that don't lessen with time.
Gum Bleeding. It isn't normal for healthy gum tissue, which are quite resilient, to bleed. In a few cases, bleeding may indicate over-aggressive brushing, but more likely it means the tissues have weakened to such an extent by infection they bleed easily.
Tooth Sensitivity. If you notice a shot of pain when you eat or drink something hot or cold or when you bite down, this could mean infected gums have "drawn back" (receded) from the teeth. Gum recession exposes the tooth roots, which are more sensitive to temperature and pressure changes in the mouth.
An Abscess. As weakened gum tissues detach from the tooth, the normally thin gap between them and the tooth deepens to form a void known as a periodontal pocket. This often results in an abscess where pus collects in the pocket and causes it to appear more swollen and red than nearby tissues. An abscess needs immediate attention as bone loss is greatly accelerated compared to normal gum disease.
Tooth Looseness or Movement. As diseased gum tissue causes loss of gum and bone attachment, the affected teeth will start to feel loose or even move to a different position. This is a late and alarming sign of gum disease — without immediate intervention, you're in danger of losing the tooth.
If you encounter any of these signs, contact us for an examination as soon as possible. The sooner we can diagnose gum disease and begin treatment, the less damage it will cause — and the better your odds of regaining healthy teeth and gums.
If you would like more information on gum disease, please contact us to schedule an appointment for a consultation. You can also learn more about this topic by reading the Dear Doctor magazine article "Warning Signs of Periodontal (Gum) Disease."
By Tina Theroux, DMD
August 13, 2018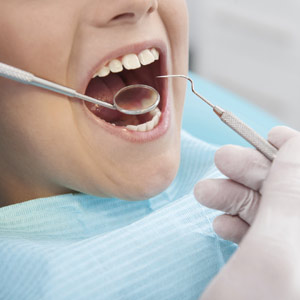 Your gums' primary role is to protect your teeth and keep them firmly in place. But periodontal (gum) disease can damage your gums to such an extent you could ultimately lose your teeth.
Gum disease is a progressive infection caused by bacterial plaque built up on tooth surfaces from poor oral hygiene. The initial infection triggers inflammation, a defensive response of the body characterized by swelling, redness and bleeding of the gums. An initial form of the disease known as gingivitis occurs in most people after just a few days without brushing or flossing.
Resuming hygienic activities to remove daily plaque, along with regular dental cleanings, may be enough to stop gingivitis and restore healthy gums. If the disease is allowed to advance, however, the infected gum tissues will begin to detach from the teeth, turning the slight normal gaps between teeth and gums into wider voids known as periodontal pockets that fill with bacteria leading to infection. Your hygiene efforts will not be enough to cope with this advanced form of periodontal disease.
At this point professional techniques are required to adequately remove plaque and calculus (hardened plaque deposits), depending on the depth and location of the periodontal pockets. The most basic of these is scaling using specialized hand instruments or ultrasonic equipment to remove plaque and calculus in pockets at or just below the gum line. If plaque and calculus have extended to the roots we may then need to employ root planing, in which we "shave" offending material from root surfaces. In some cases this may require accessing the area surgically beneath the gum tissue.
As plaque removal progresses, inflammation will begin to subside and the gum tissues heal. If, however, swelling, bleeding or pus formation persists, this may indicate bacterial levels remain too high. To decrease these levels we may need to administer antibiotics, or through mouthrinses containing chlorhexidine.
Once under control, it's crucial from then on for you to maintain a strict daily regimen of brushing and flossing to keep plaque from building up on tooth surfaces. You'll also need to visit us regularly (two or more times a year) for professional cleaning and checkups. Keeping a close eye will help prevent a reoccurrence of this serious disease and prolong the life of your teeth.
If you would like more information on treating periodontal (gum) disease, please contact us or schedule an appointment for a consultation. You can also learn more about this topic by reading the Dear Doctor magazine article "Treating Difficult Areas of Periodontal Disease."